---
University of Florida plant scientist Kevin Folta is undeniably a sock puppet for Monsanto. Recent emails reveal that the professor received grant money from the biotech giant, despite denying any conflicts of interest or relationships with the company.(1)
A recent report published in Nature documented 4,600 pages' worth of emails exchanged between Dr. Folta and Monsanto representatives. The emails reveal that Folta, a public servant of the State of Florida, solicited and accepted a $25,000 "unrestricted" grant from the company, which is a possible second class felony. In exchange, Folta traveled across the country, preaching to farmers, politicians and the media about the "safety" of genetically modified organisms (GMOs). Money really does talk, as reflected in the email below: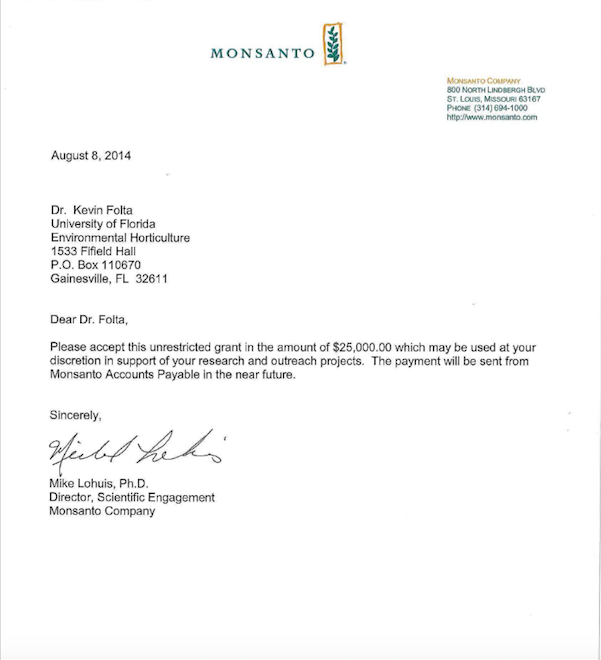 The fact that Dr. Folta accepted money from Monsanto became public knowledge because of a Freedom of Information Act (FOIA) request by the public advocacy group U.S. Right to Know. The advocacy group took note of Folta as a frequent promoter and commentator on GMOAnswers.com, a pro-GMO site run by Monsanto's public relations firm. The website is funded by major biotech companies, including Monsanto, Bayer CropScience and Syngenta, among many others.(1)
Folta gleefully danced to Monsanto's tune by stating, "I'm glad to sign on to whatever you like, or write whatever you like." He later expressed his gratitude to the company after being cleared for the grant money as noted in the following email: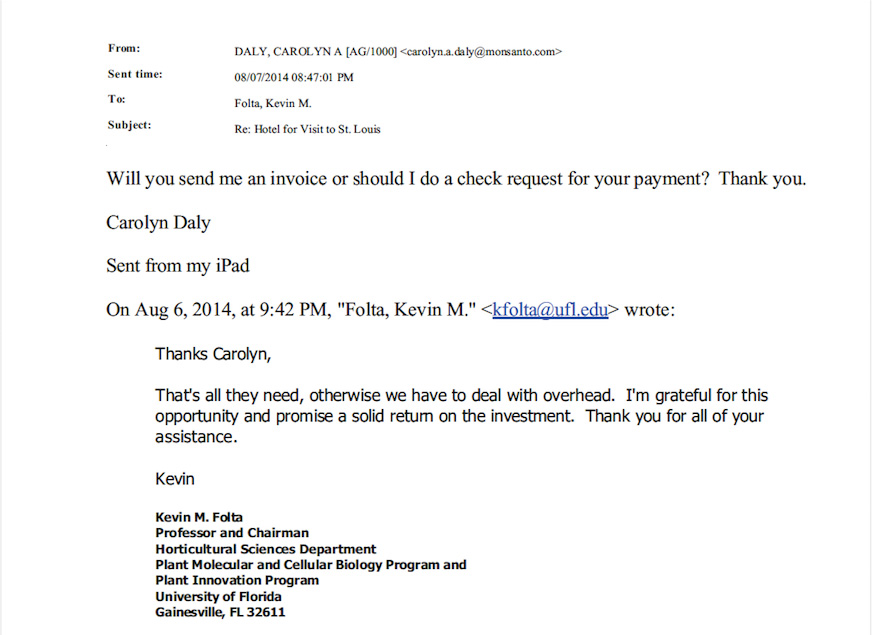 To make matters worse for Folta, the emails suggest that a crisis management PR firm based in New York wrote answers for the professor, which were then copy and pasted under his name onto the website GMOAnswers.com.
For example, when the World Health Organization (WHO) classified glyphosate, the primary ingredient in Monsanto's infamous RoundUp herbicide,  as "probably carcinogenic," Monsanto chastised the report as "junk science." Folta did justice to Monsanto's remarks by stating he would drink a pint of glyphosate in front of his students.(1)
In actuality, glyphosate is a toxic poison linked to a variety of ailments, including cancer, birth defects and nerve damage. Maybe Folta is willing to drink Monsanto's Kool-Aid, but that doesn't mean the rest of us are.
To be terse, Folta was caught in a grand act of corruption; a deceitful piece of misconduct that should warrant expulsion from a university.(1)
It would be one thing if Folta was just another charlatan promulgating lies on the internet. The problem is that Folta is a university professor with credentials and real social influence. His own research and employment is funded by taxpayers. Folta's emails reveal that as long as Monsanto has a grip on academia, the interests of the biotech giant will trump the interests of the public.
Learn more about breaking news regarding GMOs at Biotech.news, powered by FETCH.news.
Sources include:
(1) EcoWatch.com